The subject of this article was removed in patch 4.0.3a but remains in World of Warcraft: Classic.

This does not exist on the retail realms anymore.
The categories should reflect this, and should not include retail realm categories.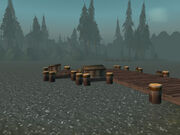 The Decrepit Ferry used to be the location of a bustling ferry service that transported goods and people to and from Fenris Isle. The nearby farmsteads all sold part of their crops to the island's rich lord and his family, and the ferryman was paid a small fee for each trip.
Then the Scourge invaded Lordaeron. The ferryman was brutally murdered, the ferry was destroyed, and ghouls, skeletal warriors, and Rot Hide gnolls invaded the docks. It is now a hazardous place to venture for inexperienced travelers.
Patch changes
External links