Deeken is a legacy encounter in the Brawler's Guild and requires the use of a challenge card to fight.
Abilities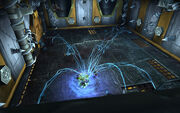 Mechano Kick 40 yd range — Charges the target inflicting 50% weapon damage and knocking the target back. Instant
  Shock Field — Inflicts 78000 to 82000 Nature damage every 1 sec. Instant
Strategy
Deeken constantly spawns lightning arcs that cross the room from one wall to the other. Most of the shock fields are shown linked to Deeken, but a few may not be. This encounter only requires ~25,000 DPS, so don't treat it as a DPS race. Focus more on staying alive rather than trying to burst him down as quickly as possible.
To more-easily see the shock fields moving across the floor, look down from above.
Deeken requires 25,500 DPS to beat the enrage timer.
Quotes
Intro

<Announcer> yells: Get ready to dance! Deeken's in the house!
Deeken yells: DIE QUICKLY -- I HAVE LUNCH PLANS!

Kill

Deeken yells: YOU ARE BAD AND SHOULD FEEL BAD!

Death

Deeken yells: NOT COOL.
Patches and hotfixes

Patch 5.1.0 (2012-11-27): Added.

External links
Ranked

Rank 1
Rank 2
Rank 3
Rank 4
Rank 5
Rank 6
Rank 7

Challenge
Cards
Random Brawls

Rank 1
Rank 2
Rank 3
Rank 4
Rank 5
Rank 6
Rank 7

Rumbles
Removed