Defensive Stance

Defensive Stance
Level 60 Arms warrior talent
10 sec cooldown
A defensive combat state that reduces all damage you take by 20%, and all damage you deal by 10%. Lasts until cancelled.

Usable by
Class
Warrior
Properties
School
Physical
Cooldown
10 seconds
Other information
Level available
60
Related buff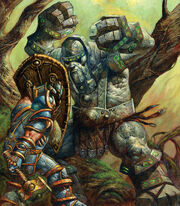 Defensive Stance is a level 60 Arms warrior talent. Once active it reduces damage taken by 20% and damage dealt by 10%.
History
The subject of this section was removed from World of Warcraft in patch 4.0.3a.
Previously, Defensive Stance was granted to the warrior via one of a number of equivalent warrior class quests as listed below. With the changes in Patch 4.0.1, these quests no longer need to be completed, and they were removed in patch 4.0.3a.
Patch changes
See also
External links