Defias Envoker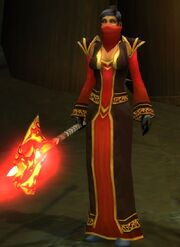 Defias Envokers are humans found in the Deadmines tunnels after the Mast Room leading up to the Goblin Foundry.
Abilities
  Holy Fire — Consumes an enemy in flames, burning it and inflicting additional Fire damage every 2 sec. over 8 sec. 
  Renegade Strength — Fills the target with the strength of the Defias. Increases Physical damage done by 200%, reduces damage taken from area of effect spells and abilities by 90%, and increases health by 300%. 
  Envoker's Shield — The Envoker's shield protects against many forms of crowd control. 
Trivia
Patch changes
See also
External links