Defias Gunpowder
The subject of this article was removed from World of Warcraft in patch 4.0.3a but is present in World of Warcraft: Classic.

The subject of this article does not exist on the retail realms anymore.
The categories should reflect this, and should not include retail realm categories.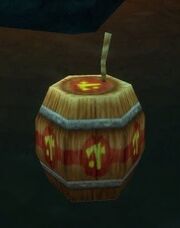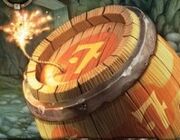 The Defias Gunpowder is located in the Deadmines, just before reaching the locked door before Ironclad Cove with a cannon pointed at it. If you don't have a rogue or engineer or a skeleton key, you can go into the small alcove you passed before arriving at the cannon and loot the gunpowder from a small Defias Gunpowder barrel. This allows you to fire the cannon which eliminates the door and spawns an elite patrol (which can take a group by surprise if not careful) to investigate the noise from beyond the door.
Notes
Looting the gunpowder spawns a 17-18 elite that attacks the party member closest to the Goblin Foundry.
Patch changes
See also
External links