Defias Squallshaper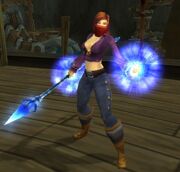 Defias Squallshapers are part of the Defias Brotherhood and are located in the Ironclad Cove, Deadmines.
Abilities
  Seaswell — Strikes an enemy with a watery bolt that arcs to another nearby enemy. The spell affects up to 3 targets, causing Frost damage to each. Damage increases with each jump. 
  Riptide — Heals a friendly target over 15 sec. (heroic mode only) 
Tactics
It is very important that you interrupt the spell Seaswell, as this deals massive damage and usually ends up in a wipe if successfully cast.
Patch changes
See also
External links