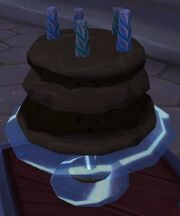 Although it's a bit tricky to make, there are few desserts as famous throughout Azeroth as this Delicious Chocolate Cake. With a dash of rose water to replace the impossible-to-find  

[

Mageroyal

]

, and fortified with a splash of port, this recipe is like fireworks of flavor for your mouth.[1]
While eating Delicious Chocolate Cake, fireworks shoot off and you gain the buff

[Very Happy].
Source
This item is created with Cooking (1); taught by

 [Recipe: Delicious Chocolate Cake].
 [Simple Flour],

 [Ice Cold Milk],
 [Mild Spices],
 [Flask of Stormwind Tawny] can all be purchased.

 [Small Egg] are a very common drop for low level buzzards and dragonhawks.

 [Mageroyal] is a common low level herb, although a limited supply can be purchased from several vendors throughout Azeroth.
Notes
Unlike all other prepared food, the cake is not stackable, and credits its baker (like other non-food crafted items do).
Baking the cake is the objective of the cooking achievement

 The Cake Is Not A Lie, which is a reference to the video game Portal.
The cake itself is reference to the orgasmic cake from The Matrix Reloaded.
The consumption of a Delicious Chocolate Cake while the player has their orphan out during Children's Week is an objective of

 Bad Example.
Patch changes
References
External links