The subject of this article was removed in patch 5.0.4 but remains in World of Warcraft: Classic.

This includes items and quests that can no longer be obtained or are now deprecated.
The categories should reflect this, and should not include retail realm categories.
Demon Armor

Demon Armor
Level 8 warlock ability
Protects the caster, increasing armor by X, and increasing the amount of health generated through spells and effects by 20%.

Only one type of Armor spell can be active on the Warlock at any time.

Usable by
Class
Warlock
Properties
School
Shadow
Cooldown
None
Other information
Level learned
8
Improvements

[

Demonic Aegis

]

Related buff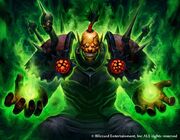 Demon Armor is a Shadow based warlock spell that increases the warlock's armor and health generated through spells.
Improvement talents
Tips and tactics
For warlocks from 8-62, this spell should always be maintained. Its long duration means you don't need to recast it very often, and it's usefulness is not to be underestimated.
After gaining

[Fel Armor] at level 62, Demon Armor is oft forgotten. However it still has its uses:
Patch changes
See also
External links