Demon Armor (Classic)
The subject of this article was removed from World of Warcraft in patch 5.0.4 but is present in World of Warcraft: Classic.

The subject of this article does not exist on the retail realms anymore.
The categories should reflect this, and should not include retail realm categories.
Demon Armor

Demon Armor
Level 8 warlock ability
Protects the caster, increasing armor by X, and increasing the amount of health generated through spells and effects by 20%.

Only one type of Armor spell can be active on the Warlock at any time.

Usable by
Class
Warlock
Properties
School
Shadow
Cooldown
None
Other information
Level learned
8
Improvements

[

Demonic Aegis

]

Related buff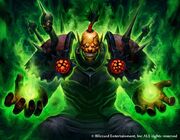 Demon Armor is a Shadow based warlock spell that increases the warlock's armor and health generated through spells.
Improvement talents
Tips and tactics
For warlocks from 8-62, this spell should always be maintained. Its long duration means you don't need to recast it very often, and it's usefulness is not to be underestimated.
After gaining

[Fel Armor] at level 62, Demon Armor is oft forgotten. However it still has its uses:
Patch changes
See also
External links