The demon hunter starting experience takes place in several parts.
Taking Mardum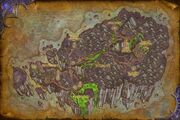 During the invasion of Outland as the Sha'tar forces assault Black Temple, Illidan sends his Illidari to Mardum on a quest to recover the

 [Sargerite Keystone].
Vault of the Wardens
A few years later, Maiev Shadowsong awakens the player in the Vault of the Wardens, which has fallen to Legion control.
The subject of this section did not make it out of the beta stages.
Faction introduction
After leaving the Vault of the Wardens, the Illidari introduce themselves to the leadership of the player's faction — Alliance or Horde — getting to the faction capital just in time to expose undercover demons.
Alliance
Horde
Khadgar's plan
At this point, all characters' storylines are united at the Illidari camps in their faction capitals. Khadgar's Upgraded Servant then appears, offering players to accompany Khadgar as he calls the Council of Six for a vote concerning Dalaran's future. Khadgar and the player then embark on a quest through Ulduar and Karazhan to find means to turn the tide and close the Legion gateway at the Tomb of Sargeras. After Khadgar learns that the key lies in the Pillars of Creation, the Council teleports Dalaran to their presumed location — the Broken Isles.
Artifact acquisition and class hall
After arriving in Dalaran, Kor'vas Bloodthorn has players check in with their chosen champion at Krasus' Landing. The champion quickly gives players the choice of which artifact they wish to acquire. After that, demon hunters return to Mardum to claim their new class hall, the Fel Hammer.
In


 [10-45] Direct Our Wrath, players choose which zone they wish to next quest in.