Demoralizing shout is a level 50 Protection warrior ability.
Notes
Glyphs
Tips and Tactics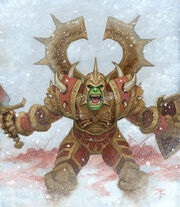 Demoralizing Shout is an ability that reduces damage done by enemies in a 10 yard radius. Demoralizing shout will pull non-hostile monsters and will put you into PvP mode if it hits nearby hostile players while in your own territory, so be careful with it.
Typically useful while tanking, as you naturally want to take less damage.
Brings stealthed units out of stealth if it hits them.
Obviously this skill should be used when fighting multiple mobs where its effects are multiplied. However it is even worth using against a single enemy, even one that is slightly inferior. The damage reduction is noticeable and it is cheap to apply. For solo grinding on melee mobs, many warriors start off with a charge followed by demoralizing shout.
Be aware if there are neutral mobs nearby using demoralizing shout (or any other debuff) will cause them to turn hostile and attack.
Does not break crowd control.
Patch changes
See also
References
External links