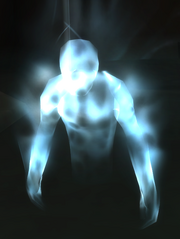 Denalan is a night elf quest giver located on the eastern edge of Lake Al'Ameth in Teldrassil. He is a herbalist that works on curing the new world tree, and dealing with the raging timberling situation. He has a small tent and a row of plants. Occasionally, a small group of mini-timberlings, with the color scheme of greater ones (blue-green) will spawn next to him. They are only level 2-3 though, and are easily dispatched.
He died during the Burning of Teldrassil, and his soul ended up in the Maw as a result of the machine of death being broken. While being imprisoned within the Tremaculum, he was rescued by mortals aligned with the Night Fae Covenant, at the urging of Ysera.[1] Following his liberation, he came to reside in the Heart of the Forest within Ardenweald.
Quests
Objective of
Quotes
Gossip
Teldrassil
The creation of Teldrassil was a grand achievement, but now the world must shift to regain it's[sic] balance.
Ardenweald
Have you ever seen such a glorious forest? The trees!
Thank you for getting me out of that awful place, so that I could see it with my own eyes.
See also
References
^  [50] 

The Lost of Teldrassil
External links
| Teldrassil | Maw | Ardenweald |
| --- | --- | --- |
| | | |