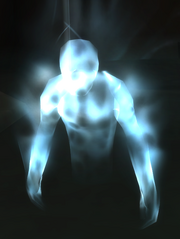 Denalan is a night elf quest giver located on the eastern edge of Lake Al'Ameth in Teldrassil.
He was a famed herbalist[1] that worked on curing the new world tree, and dealing with the raging timberling situation. He also enchanted special soil to purge the corruption. He had a small tent and a row of plants. Occasionally, a small group of mini-timberlings, with the color scheme of greater ones (blue-green) will spawn next to him.
According to Rexxar, he could cure the
 [Moss-Twined Heart] of Blackmoss the Fetid, but he died during the Burning of Teldrassil, and all knowledge of the remedy went with him.[1] His soul ended up in the Maw as a result of the Arbiter's incapacitation. While being imprisoned within the Tremaculum, he was rescued by mortals aligned with the Night Fae Covenant, at the urging of Ysera.[2] Following his liberation, he came to reside in the Heart of the Forest within Ardenweald.
Quests

The subject of this section was removed from World of Warcraft in patch 4.0.3a but is present in Classic.
 [9] 

Oakenscowl

 [9] 

Timberling Seeds
Objective of
Quotes
Gossip
Teldrassil
The creation of Teldrassil was a grand achievement, but now the world must shift to regain it's[sic] balance.
Ardenweald
Have you ever seen such a glorious forest? The trees!
Thank you for getting me out of that awful place, so that I could see it with my own eyes.
See also
References
^ a b World of Warcraft: Exploring Azeroth: Kalimdor, pg. 47
^  [60] 

The Lost of Teldrassil
External links
| Teldrassil | The Maw | Heart of the Forest |
| --- | --- | --- |
| | | |