Objectives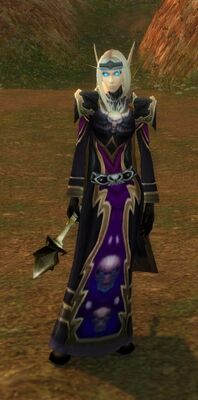 Kill Instructor Malicia and obtain her Cult Orders.
Description
The Cult of the Damned maintains a small camp to the east, Malicia's Outpost, which they use for field training outside of the Scholomance. We may have allowed them to proceed unchecked with this training for too long.
If cultists are truly using this plague to inoculate the wildlife, then Malicia Outpost must be where the inoculation is occurring.
Instructor Malicia runs the outpost. Find her, slay her, and find out who she's taking orders from.
Progress
You take a look at the paperwork Malicia was carrying...
Completion
The orders in Malicia's possession incriminate Darkmaster Gandling of the Scholomance, but they also conceal another important bit of information.
Progression
Part 1 - The first battle for Andorhal
 [15-30] 

The Battle for Andorhal

/  [15-30] 

Hero's Call: Western Plaguelands!

/  [15-30] 

Warchief's Command: Western Plaguelands!

Both of the following, in either order:
All of the following, in any order:
 [15-30] 

Victory, For Now

(breadcrumb)
Part 2 - The uneasy calm
 [15-30] 

Uther's Blessing

/  [15-30] 

Latent Disease

 [15-30] 

The Abandoned Crypt

/  [15-30] 

Who Needs Cauldrons?

 [15-30] 

Ambushed!

/  [15-30] 

Lower the Boom

 [15-30] 

The Writhing Haunt

/  [15-30] 

Strange New Faces

 [15-30] 

This Is Our Army

/  [15-30] 

When Death is Not Enough

 [15-30] 

Combat Training
Part 3 - The mending of the Plaguelands
The Menders' Stead (quest) (breadcrumb)
 [15-30] 

A New Era for the Plaguelands

 [15-30] 

Zen'Kiki, the Druid

 [15-30] 

A Different Approach
Part 4 - Living in the Plaguelands
 [15-30] 

Northridge Lumber Mill

(breadcrumb)
 [15-30] 

Learning the Ropes

(no prerequisites)
 [15-30] 

This Means WAR (Wild Arachnid Roundup)
Part 5 - Hearthglen
 [15-30] 

An Audience with the Highlord

(breadcrumb)

 [15-30] 

It's About Time!

 [15-30] 

Drudges... <Sigh>

 [15-30] 

Taelan Fordring's Legacy

 [15-30] 

The Good People of Hearthglen

 [15-30] 

Bagging Bisp

 [15-30] 

Turning Yourself In
Part 6 - The renewed plague
 [15-30] 

The Long Trip Home

 [15-30] 

Memories from a Lost Past

 [15-30] 

Gahrron's Withering Cauldron

 [15-30] 

Return to the Stead

 [15-30] 

Desperate Acts

 [15-30] 

Students of Krastinov
Part 7 - The battle resumes
 [15-30] 

The Battle Resumes!

(breadcrumb)
Both of the following, in any order:
 [15-30] 

The Depravity of the Forsaken

/  [15-30] 

Lindsay Ravensun, Revealed

Both of the following, in any order:
 [15-30] 

Aradne

/  [15-30] 

Andorhal, Once and For All

 [15-30] 

Alas, Andorhal

/  [15-30] 

The Reckoning
Patch changes
External links