Devourer
This article is about the Shadowlands race. For other creatures, see devourer of souls and Devourer (RPG).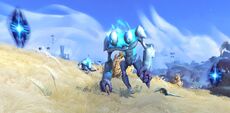 Devourers are aberrations that hail from the farthest reaches of the Shadowlands[1] and feed on the energies they find.[2] They crawl forth from the cracks between the realms, usually through glowing blue rifts, and have a voracious appetite for anima.[3][4] No one knows where they came from,[3][5] but it is theorized that they have their origins in the In-Between[6] and that they flourish on several lost land masses there.[5] The anima drought has fueled the devourers' relentless hunger, driving them to seek new sources,[1] and all denizens of the Shadowlands see their recent boldness as a sign of the end times.[3] Devourers are attracted to the scent of anima like moths to a flame.[7][8] Anima they consume gains some strange properties,[9] such as the ability to open rifts to the In-Between[10] and infest the land or constructs of the covenants.[11]
Devourers can be found infesting several places in the Shadowlands, such as Everdawn Terrace in Bastion; the Sepulcher of Knowledge in Maldraxxus; the Elder Stand in Ardenweald; and the Endmire, Catacombs of Regret, Banewood, Sanguine Depths, and even Castle Nathria in Revendreth.
They come in three variants: giant-like worldeaters, who can drain anima from an entire region within a matter of moments;[12] a slightly smaller, hunched version referred to as gorgers or gluttons; and small, flying insect-like creatures called mites or animites.
Notable
As a mount
Main article: Devourer mounts
As a companion pet
Devouring Animite is a reward from the mission Campaign: Charthox the Indomitable.
Notes
Most devourers have the passive "Consuming Strikes" ability:   Consuming Strikes — Consumes a portion of the target's essence causing melee attacks to heal the caster for 25% of the damage inflicted.
The only devourer found in the Maw is the boss Goxul the Devourer within Torghast; otherwise there are no devourers in the Maw at all. Maw fog beasts have a vague resemblance to devourers however.
Inhabitants of the Shadowlands seem to generally view devourers as little more than animals; the Fearstalker calls them "vermin",[4] Ta'eran calls them "mindless monstrosities",[1] Xandria refers to them as "monsters" and "beasts",[10] and they are considered "wildlife" for the purposes of the world quest  [60WQ] 

A Curious Cache

. However, at least one devourer, the Worldedge Gorger, is capable of speech (albeit only a single word).
Worldeaters use ettin animations, gorgers use gronnling animations, and mites use nerubian flyer animations.
Gallery
References
^ a b c  [54] 

Kill Them, Of Course

^  [54] 

Read Between the Lines

^ a b c Loyal Gorger
^ a b  [59] 

Devour This

^ a b  [60WQ] 

AHHH! Real Monsters!

^  [60WQ] 

All Will Be Consumed

^  [60] 

Monster Hunting
Creature group
Aberration creatures