This article's name is unofficial.

Please note that while the content is valid, this article's name is not official.
This is because no official name is available for the subject of this article. We use a descriptive name instead.
This article should not be moved unless discussed first - Remember to follow the naming policy.
For the Shadowlands creatures, see devourer. For the RPG creatures, see Devourer (RPG).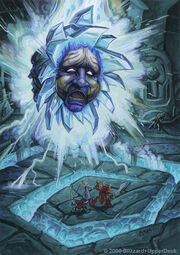 Devourers of souls are floating three-headed beings. They have been present on both Azeroth and Outland. Most notably, the Reliquary of Souls and Devourer of Souls are encounters in the Black Temple and Forge of Souls instances.
The name "devourer" is taken from the sound files[1] as no other name is known.
Notable
As companions
Notes
Referencess