For the Waycrest Manor mobs, see Devouring Maggot (Waycrest Manor).
This creature can be captured by engaging it in a pet battle.
Devouring Maggots are critters found in the catacombs underneath Wyrmskull Village. Go in the cave[56, 49]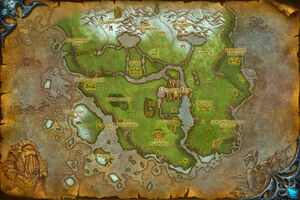 above the pit with the Bloodthirsty Worgs. Down the stairs, take a right at the Valkyries, down more stairs, all the way to the bottom.
Among these can spawn Devouring Maggot companions that can only be captured through pet battling. These can also spawn as secondary pet battles.
Pet Journal
Howling Fjord teems with the ever shifting cycle of life. When a creature dies, its body is quickly consumed by maggots, which in turn pass those nutrients on to a number of other creatures.
Battles
Achievements
Killing one of these is required for

 [Pest Control].
Patch changes
External links
Battle pet types
Beast battle pets

Archetype of Cunning

Archetype of Discovery

Archetype of Predation

Bloodfeaster Spiderling

Blushing Spiderling

Copperfur Kit

Corpulent Bonetusk

Devouring Maggot

Goldenpaw Kit

Green Viperid

King Viperid

Momma Vombata

Red Viperid

Rosetipped Spiderling

Ruby Baubleworm

Rustfur Kit

Sable

Tarachnid Ambusher

Tarachnid Stalker

Topaz Baubleworm

Tunneling Vombata

Turquoise Baubleworm

Verdant Kit

Viperid Menace

Vombata Pup