Diablo Stone
Use: Teaches you how to summon this companion.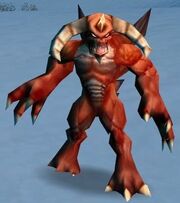 Diablo Stone is available only to people who bought the Collector's Edition of World of Warcraft. Players will receive the item, along with the
 [Zergling Leash] and

 [Panda Collar], through the mail when logging on for the first time. It summons Mini Diablo <Lord of Terror>, who will sometimes levitate in the air and breathe fire.
It used to be rewarded from the quest Welcome!
Pet Journal
AND THE HEAVENS SHALL TREMBLE, AND MAN SHALL WEEP, AND THE END OF DAYS SHALL--wait, why are you so tall?
Battles
Magic: Cannot be dealt more than 35% of their maximum health in one attack.
Notes
Patch changes
Patch 4.0.6 (2011-02-08): No longer rewarded from the quest Welcome!, it is now mailed to players.

Patch 3.0.3 (2008-11-04): Now Binds to Account, rather than Binds on Pickup.

External links
Battle pet types
Magic battle pets

Anomalus

Archetype of Focus

Bubbling Pustule

Geordy

Maw Stalker

Omnipotential Core

Pocopoc

Resonant Echo

Shy Melvin

Sludge Feeler