"Flexibility in your armor plays a crucial part in making your attacks even more devastating."[1]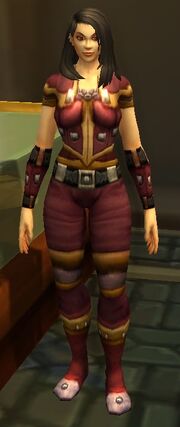 Diane Cannings is a human leatherworking trainer inside Legendary Leathers, within the Magus Commerce Exchange in Dalaran. She is an apprentice of Namha Moonwater, specializing in leather armor.
Quests
  [10-45] 

Leather Lady

  [10-45] 

Stormheim Savagery

  [10-45] 

Vestment Opportunity

  [10-45] 

Tauren Tanning

  [10-45] 

Hardening the Hide

  [10-45] 

Rats!

  [10-45] 

The Final Lessons
Quotes
Gossip
Hello! Are you interested in learning how to craft leather wares?

 Train me.
Dalaran above Deadwind Pass
Sorry, <name>. Come back and see me when things have calmed.
I'm afraid I cannot help you right now, <name>. We have been asked to remain alert at all times.
Training will resume shortly, <name>. You have my word.
Be on your guard, <name>. We've been asked to put the safety of our visitors above all else until things settle down.
No need to worry, <name>. Training will continue. But for now, we must focus the matters at hand.
In due time, <name>. For now, we must remain vigilant.
I do wish I could assist you in your training, but now is not the time, <name>. My apologies.
Trivia
Patch changes
See also
References
External links
| Northrend | The Broken Isles | Deadwind Pass |
| --- | --- | --- |
| | | |