Dig sites are resources for the Archaeology skill. They are specific locations which enables a player to use

[Survey] within them, in order to search for archaeology fragments and keystones. These can then (when the player has enough) be used to make items.
Details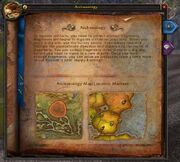 Dig sites are race-specific; a dig site will only yield fragments and keystones related to a specific race. A dig site is however not limited to players of the same race; a dwarf player will have no problem searching a troll-dig site for troll-artifacts. The race-specification of a dig site is not random, but determined by where it spawns. For example, whenever a dig site spawns at Sargeron it will always be a night elf dig site.
Dig site locations are also player-specific, meaning unlike Mining and Herbalism, players are not competing against each other for access. In other words; the dig site one player can see will be invisible to another player. It is, however, fully possible that two dig sites "belonging" to two different players will spawn at the exact same location at the same time. This may cause the players to meet, which could result in a fight if they can attack each other (though none of them would gain any benefits, archaeology-wise, by winning).
Dig sites have six finds before they get tapped out and a new one opens up. It is completely random where a new one will open, though a dig site cannot spawn onto another dig site. That means the player cannot choose which race the player wants to dig for. The player has no choice but simply search those already present, whether the player wants to search items of that race or not. There are four dig sites active at any one time on each of the four continents (Kalimdor, Eastern Kingdoms, Outland, Northrend).
Dig sites can be seen on the minimap, zone-maps and continent maps. On zone-maps, dig sites will appear as orange spots. On continent-maps, dig sites will appear as small shovels. Notice that Stranglethorn Vale will not display dig sites as orange spots before you zoom in on either the northern or southern part of it.
The player is initially able to see and search dig sites in Kalimdor and the Eastern Kingdoms. When the player's archaeology-skill becomes high enough, he/she will also be able to see and search dig sites in Outland (skill 300), Northrend (skill 375) and Cataclysm-areas (skill 450).
You search a dig site by using

[

Survey

]

to drop a theodolite. This will point in the direction of the find, additionally signalizing the distance from it with an attached red-yellow-green marker. Red is over 100 yards away, yellow is 50-100 yards away, green is less than 50 yards away. When the player is within approximately 10 yards of the find and uses Survey, the find will appear instead of the theodolite. It is impossible to even use Survey if you are not inside a dig site.
Locations by Continent
Eastern Kingdoms
Kalimdor
Outland
Northrend
Pandaria

This section concerns content related to Mists of Pandaria.
Draenor

This section concerns content related to Warlords of Draenor.

Please add any available information to this section.

Broken Isles

This section concerns content related to Legion.
Kul Tiras

This section concerns content related to Battle for Azeroth.
Zandalar

This section concerns content related to Battle for Azeroth.
Patch changes
Patch 4.0.6 (2011-02-08): Seven new Tol'Vir Dig Sites added to Uldum: Akhenet Fields Digsite, Cursed Landing Digsite, Keset Pass Digsite, Obelisk of the Stars Digsite, River Delta Digsite, Sahket Wastes Digsite, and Schnottz's Landing. Also, two new Nerubian sites added to Eastern Plaguelands: Terrorweb Tunnel Digsite and Plaguewood Digsite. Lastly, two new Nerubian sites added to Northrend: Pit of Fiends Digsite (in Icecrown) and Sands of Nasam (in Borean Tundra).

Hotfix (2010-12-22):

Vashj'ir dig sites no longer unlock for players. They felt too punishing without additional benefits compared to low-level sites, and were much more difficult to obtain artifacts in due to the way Vashj'ir navigation works.



Removed sites: Quel'Dormir Gardens Digsite, Night Elf; Nar'shola (Middle Tier) Digsite, Night Elf; Biel'aran Ridge Digsite, Night Elf.