Disgusting Oozeling
Use: Teaches you how to summon this companion.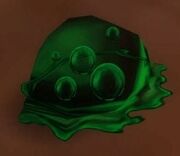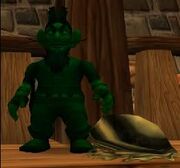 The Disgusting Oozeling is an ooze companion.
Source
This item can very rarely be looted from

 [Oozing Bag]s, which drop from oozes in places such as the Swamp of Sorrows, Un'Goro Crater, Winterspring, and the Ruins of Ahn'Qiraj. Oozing Bags can also drop from Dredge Crushers and Dredge Strikers in Silithus.
Pet Journal
Warning: Wear gloves and goggles while handling disgusting oozeling. DO NOT WASH. Will stain most armor.
Battles
Magic: Cannot be dealt more than 35% of their maximum health in one attack.
Notes
Patch changes
Patch 8.1.5 (2019-03-12): Item quality changed from common to rare.

Hotfix (2006-04-19): A bug causing the Oozeling's Disgusting Aura to stack with itself was hotfixed.

Note: This hotfix likely took place on an earlier date.

References
External links
Battle pet types
Magic battle pets

Anomalus

Archetype of Focus

Bubbling Pustule

Disgusting Oozeling

Geordy

Maw Stalker

Omnipotential Core

Pocopoc

Resonant Echo

Shy Melvin

Sludge Feeler