Dispel Magic

Dispel Magic
Level 56 priest ability
30 yd range
1.6% of base Mana
Dispels Magic on the enemy target, removing 1 beneficial Magic effect.

Usable by
Class
Priest
Properties
School
Holy
Other information
Level learned
56
A fool and her blessings are soon parted.[1]
Dispel Magic is a level 56 priest spell that removes one magical buff from an enemy target.
Improvements
Azerite Traits
[

Twist Magic

]

causes successful Dispel Magic casts to heal the priest and 4 injured allies within 40 yards.
Shadow
Hallucinations

(Level 58) - Causes successful Dispel Magic casts to generate 6 Insanity.
Tips and tactics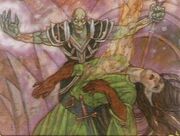 Dispel Magic is a very useful ability in PvP. It can dispel most magical buffs, removing powerful effects or returning an opponent's stats to normal. With good timing it can be used to strip powerful cooldowns such as

[Avenging Wrath] from opponents, wasting their effects.
Dispel Magic chooses a buff at random. Many enemy players will often cast unnecessary buffs, such as
[Water Walking], to reduce the odds that dispels will remove an important buff.
Dispellable buffs on enemy targets will be illuminated to indicate that the priest is capable of dispelling them.
The impact of a priest who spams Dispel Magic on a battleground is very potent. You can remove druid healing over time. You can remove powerful protective spells with cooldowns like

[Ice Barrier], Sacrifice and

[Hand of Protection]. You can cancel out

[Slow Fall] or

[Levitate] used by mages and priests to escape the Lumber Mill in Arathi Basin. You can remove the

[Power Word: Shield] of another priest. A good healing priest on a battleground will be either shielding, healing, attacking or dispelling at all times, and dispelling is often a good use of time when healing is not required.
The most powerful buffs such as

[Divine Shield] and
[Ice Block] can be removed by

[Mass Dispel], but not Dispel Magic. Dispel Magic cannot return a druid to humanoid form because shapeshifting is natural, not magical. However, the shaman

[Ghost Wolf] form is magical and can be dispelled.
Priests must decide when to use Dispel Magic, and when to use

[Mass Dispel]. Dispel Magic is instant, can be cast while running, cannot be interrupted and removes one debuff from enemy targets; Mass Dispel dispels one buff or debuff from each enemy or ally within the spell's area of effect, removing up to 20 effects in total, and can also remove immunities, but with a 1.5-second cast time is harder to cast and can be interrupted.
Players should be aware that certain buffs (such as
[Lifebloom]) will cause additional effects upon being dispelled. A full list can be found here.
Patch changes
See also
References
External links