The subject of this article was removed from World of Warcraft in patch 6.0.2.

This includes items and quests that can no longer be obtained or are now deprecated.
The in-game information in this article is kept purely for historical purposes.
Divine Favor

Divine Favor
Level 62 Holy paladin ability
3 min cooldown
Increases your spell casting haste by 20% and spell critical chance by 20% for 20 sec.

Usable by
Class
Paladin
Properties
School
Holy
Cooldown
3 Minutes
Other information
Level learned
62
Related buff

Divine Favor
Spell haste increased by 20%.
Spell critical chance increased by 20%.
Duration: 20 seconds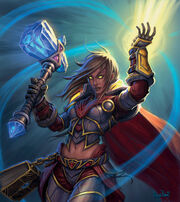 Divine Favor is a Holy paladin ability, available at level 62. It increases spell casting haste and spell critical chance by a percentage for 20 seconds.
Notes
Trivia
Patch changes
External links