This article contains creatures from concept art. It may not exist in the Warcraft universe.

This article is kept purely for historical purposes and should probably not be under any other categories.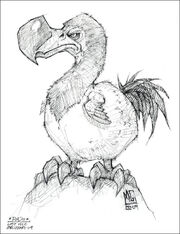 A dodo is a prehistoric species of flightless bird that likely resides on the Lost Isles. They have minuscule wings and large bodies, with massive, axe-shaped beaks.
Existence
The idea of dodo birds seems to have been scrapped and replaced with bush chickens, as currently Wild Cluckers inhabit the Lost Isles.