The subject of this article was removed from World of Warcraft in patch 5.0.4.

This includes items and quests that can no longer be obtained or are now deprecated.
The in-game information in this article is kept purely for historical purposes.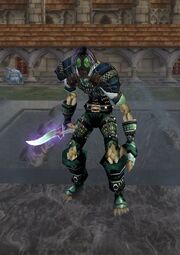 Dominic was an undead rogue who was infiltrating the Scarlet Monastery during the Cataclysm. He could be found in the Library, Armory and Cathedral wings of the Monastery. Despite the fact he looks like a Forsaken, he gives quests to both Horde and Alliance players.
He sent adventurers to kill members of the Scarlet Crusade and to bring him the

 [Compendium of the Fallen]. He was also able to discover that the now undead High Inquisitor Fairbanks was in the Monastery and asked adventurers to kill him.
Quests
 [33D] 

Compendium of the Fallen

 [36D] 

Without Rhyme or Reason

 [39D] 

Right Under Their Noses
Quotes
Gossip
Let's not play games. Are they dead or not?
Abilities
Notes and trivia
Patch changes
References
External links