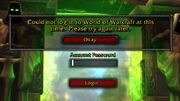 Downtime is a game term meaning the duration of a stoppage of a service or component within the agreed service time. It can be described and used in two ways:
In-game downtime
In-game downtime generally refers to instances where the character is not active or having time not spent hunting and killing monsters. Such downtime occurs usually when one is in need of rejuvenation (by healing, eating, bandaging, etc.) from being weary after a battle, or just being AFK.
Server downtime
Server downtime occurs when the Warcraft servers are inoperable or inaccessible to users. This can occur in instances where the Realm servers are temporarily closed for maintenance or an unexpected error within the Authentication servers causing players to be unable to log in. The health and accessibility of the servers for players are at the mercy and sole discretion of Blizzard. As a tip to players and newcomers to World of Warcraft, just be patient while the servers are down. Blizzard employees are always taking notice in broken servers and are maintaining and fixing it whenever they are down. It is rare for unscheduled downtime in the Blizzard servers to last for more than a couple of hours.
Information about current and future realm downtimes can be found on Blizzard's official Realm Status Forum. Planned downtimes are also advertised on the message of the day on the login page generally a few hours before the outage.
Such planned downtimes may take one of several forms, including:
Rolling restart

The servers are restarted and are generally available again within 15 minutes. This typically occurs at 5am Pacific Time for US servers, and 2pm Pacific time for Oceanic.

Realm Maintenance

The realms are brought down for up to 6 hours, usually commencing at 5am Pacific Time for US and Oceanic realms.

Extended Realm Maintenance

The realms are brought down for over 6 hours, usually commencing at 3am Pacific Time for US and Oceanic realms.
See also