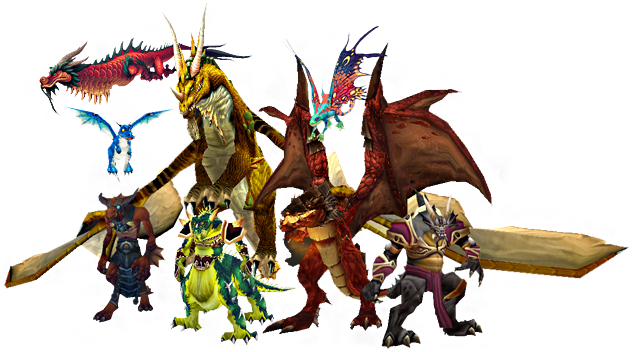 Dragonkin are all creatures descended from and including dragons,[1] from drakes to drakonid. Nearly all dragonkin belong to one of the main or lesser dragonflights.
It seems that the term dragonkin can also refer to a category that includes specifically dragonspawn and drakonid. See dragonspawn speculation.
Tyri at the Celestial Ridge also calls the alien nether dragons there "dragonkin"[2][3] instead of true dragons.
Characteristics
Reptilian and almost always have a tail.
Scaly skin that is usually skinnable.

Dragon scales often have magical properties and are highly valuable to craftsmen.

Have sharp claws.
Semi-intelligent to very intelligent.
Some can fly and usually have bat-like wings in that case.
Some have a breath-weapon.
Most are susceptible to the druid's

[

Hibernate

]

ability.
Flights
Major
Other
Types
Undead dragonkin
Other dragonkin
References
^  [25-30] 

Formal Introductions

^  [25-30] 

A Promising Start
Primary dragonflights
Other dragonflights
Groups
Creature group
Dragonkin creatures