For information about drakonid in the Nefarian fight, see Nefarian (tactics).
Drakonid[2][3] (sometimes pluralized as drakonids[4][5][6] and also spelled draconid)[7] or drakonaar[8][9][10] are humanoid dragon-like creatures typically used as guards[3] and soldiers for their dragonflight.
Background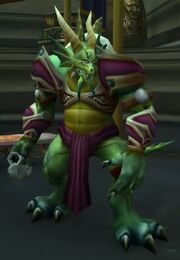 Drakonid have been described as half-man, half-dragon.[11] Drakonid are mortals empowered by the dragons they serve, via intentional alteration or via "unintended side effect of hanging out with dragons".[12] The process does not have to be willing.[13]
In Blackwing Lair, each drakonid seems to have a fatal weakness to one magic type, making it suffer enormous damage from that particular school. This weakness can be used to the advantage of any mortal army daring to step into the halls of Blackwing Lair in order to challenge the sinister Nefarian.
Bronze colored drakonid can be found patrolling the Caverns of Time. Nether drakonid can be found in Shadowmoon Valley, in the service of Illidan Stormrage. Drakonid of all five dragonflights guard the Wyrmrest Temple. The infinite dragonflight tempted many drakonid with promises of power, but most found only servitude and despair. One of the few exceptions is Chrono Lord Deja, who gained influence within the flight through his raw power and cunning.[14]
The ascendants and Zuluhed of the Dragonmaw on Outland can turn into drakonid.[15] Corla of the Twilight's Hammer in the Blackrock Caverns blessed fellow zealots by harnessing nether dragon essence to transform the believers into menacing twilight drakonid.[16]
Flights
Main
Derived
Notable
Black
Blue
Green
Infinite
Nether
Twilight
Types
Drakonid of all five main dragonflights
Red
Blue
Green
Bronze
Black
Chromatic
Infinite
Nether
Twilight
Unknown
As a companion pet
Trivia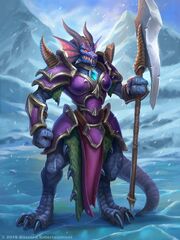 Drakonids were introduced with patch 1.6.0 in the Blackwing Lair raid.
Blizzard have considered making drakonid a playable race, with Tom Chilton stating in 2009 that "We always looked at those and said, oh that would be a pretty cool player race - it would be cool to play as one of those guys. There's not a lot there as far as, where did they come from and what are they? But they are in the world and it wouldn't be completely inconceivable that a player would end up being able to play that, and we could continue to expand on the depth of that race and that sort of race."[17]
When chasing an enemy, drakonid twirl their polearms in a manner similar to that of the guardian of the Tkon Empire attacking Commander Riker in the Star Trek: The Next Generation episode "The Last Outpost".
Speculation
| | |
| --- | --- |
| | This article or section includes speculation, observations or opinions possibly supported by lore or by Blizzard officials. It should not be taken as representing official lore. |
Gallery
References
Creature group
Dragonkin creatures