For trivia about an early draft of the zone, see Xerrath.
Dreadscar Rift

Level: 100 - 110


Type
Order Hall
Races
 Demon
 Human
 Orc
 Blood elf
 Dwarf
 Forsaken
 Gnome
 Goblin
 Troll
 Worgen
Ruler(s)
The Netherlord
Former ruler(s)
  Jagganoth †
Affiliation
The Black Harvest
Former affiliation(s)
Burning Legion
Location
Twisting Nether[1]
PvP status
Sanctuary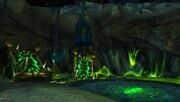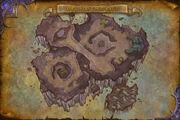 Dreadscar Rift is a former Burning Legion portal world which served as the pitlord Jagganoth's Lair, until the warlocks of the Black Harvest conquered it. Not much is known about this realm, except that Jagganoth, lieutenant of the dreadlord Mephistroth, had been its Overlord. The Dreadscar armies were bound to the new Overlord, the First of the Black Harvest.
NPCs
Jagganoth's Lair
Before completion of   [10-45] 

The Heart of the Dreadscar
Dreadscar Rift
After completion of   [10-45] 

The Heart of the Dreadscar
Champions
Services
Others
Unnamed NPCs
Quests
Level 45
  [45] 

Soul Beacon

  [45] 

Herding Goats

  [45] 

Doom and Gloom

  [45] 

Borrowed Time

Complete both:
Complete all of:
  [45] 

Finding Fizzlebang

Complete both:
  [45] 

Lulubelle on Loan

  [45] 

Selecting a Sixth

  [45] 

A Hero's Weapon
Points of Interest
Portal: located to the east, leads to Dalaran
Artifact Forge: located to the west, up the long ramp
Artifact Research Book: Located in the center area
Gallery
References
^   [10-45] 

The New Blood
External links
| Scenario | Order hall | Jagganoth's Lair |
| --- | --- | --- |
| | | |