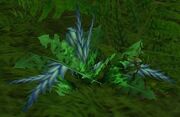 Dreamfoil is an herb that can be gathered with Herbalism (270). It can be found in most level 50-60 Azerothian zones, especially in the Blasted Lands, as well as some low level Outland zones. It can also occasionally drop off of "plant-like" (treants, bog beasts, etc.) enemies levels 50-60.
The herb grows in open flat areas.
As an ingredient
Alchemy
Inscription
Spread of Dreamfoil
Dreamfoil is one of the only herbs found both in Azeroth and Outland. While originally from Azeroth, it was carried through the dark portal by the Horde and Alliance, whether by accident or on purpose, 20 years prior to the Burning Crusade. This explains the fact that the herb is only found in the first two zones, the areas with the highest concentration of Horde, Alliance, and Cenarion forces, who were most likely to carry this seed. This herb is more than likely one of the more heartier breeds of Azerothian plants, as it appears to be the one of only a few able to survive in Outland.
Patch changes
External links
Types of

herbs

Apprentice Herbalism
Journeyman
Expert
Artisan
Master
Grand Master
Illustrious Grand Master
Zen Master
Draenor
Legion

Battle for Azeroth
Shadowlands