Dumass
Dumass is a level 19 Forsaken quest giver initially found at the Southpoint Gate for the quest

 [20] Welcome to the Machine, where the player sends him on an adventure.
He later shows up in the Azurelode Mine where he's fallen victim to the spiders there. After being rescued, Captain Keyton asks the rescuer if they have heard of "survival of the fittest". Keyton then orders Dumass to travel to Tarren Mill, though Dumass seems to believe it is found somewhere in the Barrens. His whereabouts after this is unknown.
His dialogue indicates that Dumass suffered the most extreme side effect (being stripped of any and all rational thought) that can happen from being resurrected by the Val'kyr.
Quests
Objective of
Quotes
BEAT THEM DOWN THEN KILL! THEN SHACKLE!
HERE'S ONE!
HOW DID ALL THESE PEOPLE GET IN HERE?!?
I USED TO BE A FARMER!
THANKS FOR RESCUING ME!
THANKS! HI! LET'S ROUND UP SOME HUMANS FOR THE CAPTAIN!
THERE'S ONE OVER THERE!
THESE HUMANS LOOK DANGEROUS!
THIS IS EASY! YES!
THIS ONE IS ANGRY!
WHO ARE OUR FRIENDS?
YAY! CAPTAIN I AM BACK! HOORAY!
Notes
Dumass' name is an overly obvious play on the phrase "dumbass", likely a reference to his highly unpredictable, inept and often plebeian behavior.
Dumass makes reference to Sylvanas' slaying of the worgen during the events of Silverpine to the player, who was present during that event.
Dumass may be Blizzard's mocking representation of players who are new to the game and are largely unfamiliar with how it works, its geography, and its lore (in other words, a "noob").
Although highly unlikely, the spelling of his name is very similar to a surname of two Alliance mages, Maginor Dumas and Elissa Dumas, which might mean that they were related. He may actually be, Elissa's cousin, Torgal, who was killed in the Icecrown.[1]
Dumass was resurrected during the demonstration of the val'kyr to the Warchief Garrosh Hellscream.
Patch changes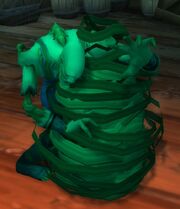 References
External links