Dun Argol

Type
Town
Leader(s)
Iron Thane Furyhammer
Race(s)
 Iron dwarf
Language(s)
Titan
Affiliation(s)
Iron dwarf, Loken, Old Gods' forces
Location
Grizzly Hills, Northrend[74.2, 54]
Status
Active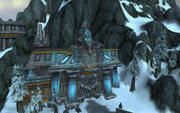 Dun Argol is a Iron dwarf base in the Grizzly Hills of Northrend, near the seemingly ruined Thor Modan. The iron dwarves here are led by Iron Thane Furyhammer. Unlike Thor Modan, Dun Argol has not been destroyed and is probably the main base for the iron dwarves in Grizzly Hills now that Thor Modan is destroyed.
Explorers' League prospectors Gann, Torgan and Varana were sent to Dun Argol by Raegar Breakbrow to search for artifacts and information about the history of the settlement, however, they never expected Dun Algaz to be this heavily populated and they were all taken captive by the iron dwarves.
Inhabitants
Patch changes
External links