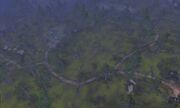 The Dunwald Ruins, located in the southwestern-central part of the Twilight Highlands, are what remains of the Dunwald clan home. Led by the ettin Darunga, the Twilight's Hammer attacked and sacked the town, killing many of its citizens.[1] Only a handful of them survived.
It contains Dunwald Holdout, Dunwald Town Square, and Dunwald Market Row, but not Dunwald Hovel. The ale stores were in a building near the old well, but the Hammer destroyed them[2] as well. It also has a smithy in the market row.[3]
Notes
The old bookkeeper of Dunwald's old storehouse sneaked sips between pages and hid a keg in his basement.[4]
Patch changes
References
External links