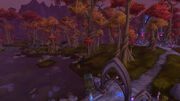 Duskfall Island is a small island located in the lake south of Tuurem in Talador.[66, 52]

The island is home to the local moths and grows bushes of Aruunem Berries. On the northern coast is a small shrine led by Seer Malune and on the southern coast is a small arakkoa refuge camp known as Terokkar Refuge.
A gnome/goblin, Torben Zapblast/Ziz Fizziks, is on the northern coast trying to fix his Pleasure-Bot 8000.
Notes and trivia
Rubble on the island indicates that it once has an ogre outpost on it.
During development, this area was named Isle of Dusk.
Patch changes
External links