The subject of this article was removed from World of Warcraft in patch 4.0.3a but is present in World of Warcraft: Classic.

The subject of this article does not exist on the retail realms anymore.
The categories should reflect this, and should not include retail realm categories.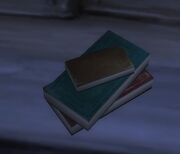 The Dusty Spellbooks can be found in Silverpine Forest.[52.8, 28.5]
Objective of
Contains

 [Remedy of Arugal] for the quest

 [11] Arugal's Folly. Opening the book will spawn a Moonrage Darkrunner.
Patch changes
External links