Do NOT change this article or section. It needs to be an accurate copy of the source.

It acts as a source for other articles here on Wowpedia, providing accurate information through citations.
For information about sources and citations, please see Wowpedia:Lore policy and Wowpedia:Citation.
This article is a source document from the ECTS 2001 Preview Materials. Please do not tamper with it, unless you are fixing an obvious spelling mistake or adding a link.
For other press kits, see Press Kit.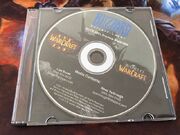 The ECTS 2001 Preview Materials was available from ECTS 2001.
Contents
Warcraft III
Artwork
Concept art
Logo
Screenshots
World of Warcraft
Artwork - Monsters
Artwork - Player characters
Concept - Monsters
Logo
Screenshots