Objectives
Get Mud Worm Meat for Maokka.
Description
It could take you days to get that much meat, and I don't want to wait around. So, we'll use a Bot as bait!
You send EARL-E towards any disturbances you see in the mud. He'll make enough noise to scare any worms out.
Then kill the worms, get the meat. I'll watch from here.
Rewards
You will receive:
Progress
Do you have the meat yet?
Completion
This will make a nice Mud Worm Soup. I wasn't liking this box anyway.
Notes
Before heading out into the Briny Flats, pick up

 [110 - 120] A Horrible Place from Grettle Haribull.
On the flats, look for Pinku'shon, a rare hermit crab, at [38.1, 50.8]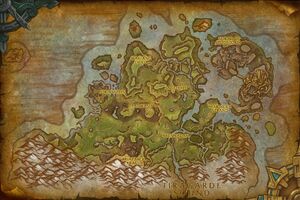 in the northwest end of the quest area.
Use the quest item to target dust clouds on the ground, which will spawn a Mud Feeder. Kill it for a single piece of Mud Worm Meat at a time.
Maokka offers a breadcrumb to the Jeweled Coast in

 [110 - 120] A Turtle's Invitation, and Moxie continues quests here at Deadwash with

 [110 - 120] No Bot Left Behind
Progression
Optional breadcrumb from Eckhart Lodge:

 [110 - 120] Reloading
Outbound breadcrumb to Seabreeze Village:

 [35-50] Helping Out, Somewhere Else →
Patch changes
External links