For the quest, see  [54D] 

The Eastern Kingdoms

.
Eastern Kingdoms

Level: 1 - 35


Races
 Human
 Undead
 Dwarf
 Gnome
 Half-orc
 Orc
 Naga
 Goblin
 Worgen
 Murloc
 Cenarius's children
 Demon
 Elemental
 Gnoll
 Ogre
 High elf
 Night elf
 Blood elf
 Draenei
 Forest troll
 Jungle troll
 Ice troll
 Void elf
 Dark Iron dwarf
 Red dragonflight
 Black dragonflight

Ruler(s)
  Anduin Wrynn
  Turalyon
  Moira Thaurissan
  Muradin Bronzebeard
  Falstad Wildhammer
  Gelbin Mekkatorque
   Genn Greymane
  Danath Trollbane
  Lor'themar Theron
  Elder Torntusk
  Baron Revilgaz
  Lord Maxwell Tyrosus
Location
Eastern Azeroth
The Eastern Kingdoms (occasionally called Azeroth[1][2][3][4][5][6][7] or the Old World[8]) are the eastern continents on the world of Azeroth.[9] The Eastern Kingdoms is made up from a group of smaller continents (Azeroth, Khaz Modan and Lordaeron) formed from the original continent of Kalimdor following the Great Sundering. The Eastern Kingdoms lie to the east of the Great Sea and to the west of the Forbidding Sea. The central part of the Eastern Kingdoms is dominated by the mountains of Khaz Modan and the Redridge Mountains. Both cover several zones. The Eastern Kingdom's western counterpart is the continent of Kalimdor.
The Eastern Kingdoms include the three continents of Lordaeron,[10] Khaz Modan,[11] and Azeroth.[12] After the Shattering, a large expanse of the underwater 'continent' was discovered, known as Vashj'ir. The Eastern Kingdoms are the homes of the undead, dwarves, gnomes, blood elves, humans, worgen, and the few remaining high elves.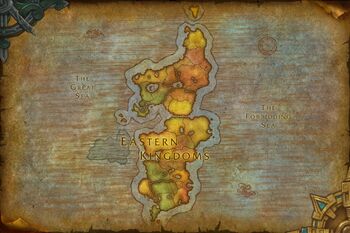 Geography
Continents
The Eastern Kingdoms is divided into three and sometimes four continents:
A map on the Blizzard web site and the Warcraft RPG shows that the Eastern Kingdoms are divided into three continents. Quel'Thalas seems to make up a fourth continent in some maps but most of the time it appears that the Eastern Kingdoms are divided into only three continents as Quel'Thalas is shown as part of northern Lordaeron.
Regions
The Eastern Kingdoms is further divided into the following regions:
Capital cities
Alliance
Horde
Neutral
Dungeons
Main article: Instances by continent
Azeroth
Khaz Modan
Lordaeron
Quel'Thalas
Vashj'ir
Battlegrounds
Main article: Battleground
Arenas
Main article: Arena
Playable races
Alliance
Horde
Trivia
Gallery
In-game maps
Warcraft series
Other
RPG books
Fan art
References