Echoes of War: The Music of Blizzard Entertainment



Standard Edition cover art

Released
November 1, 2008[1] (Legendary)
November 22, 2008[1] (Standard)
Recorded
Blizzard Entertainment
Length
01:34:28
Label
Blizzard Entertainment
Eminence Group Pty Ltd.
Producer
Hiroaki Yura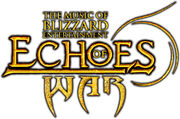 Echoes of War: The Music of Blizzard Entertainment is two-disc album and DVD package created by The Eminence Symphony Orchestra for Blizzard Entertainment. It featured two audio discs, DVD including feature length documentary, 32-page color booklet, nine exclusive art cards, fifteen audio tracks and over ninety minutes of orchestral music including exclusive music from World of Warcraft: Wrath of the Lich King, StarCraft: Ghost, StarCraft II, and Diablo III.[2] It was developed by Eminence in partnership with Blizzard Entertainment.[3]
It contains a total of 90 minutes of music,[4] with bonus tracks arranged by special guests including the critically-acclaimed composer Kow Otani (Shadow of the Colossus).
Track list
Disc
#
Title
Time
The Third War Symphony
1
1
Journey to Kalimdor
4:08
1
2
Eternity's End
2:43
The Shadow of the Legion Symphony
1
3
A Tenuous Pact
7:43
1
4
Anar'alah Belore
5:21
1
5
The Betrayer and The Sun King
6:53
The Visions of the Lich King
1
6
The Visions of the Lich King Overture
8:41
The Koprulu Symphony
2
1
No Matter the Cost
5:44
2
2
En taro Adun
4:09
2
3
Eradicate and Evolve
6:35
2
4
Victorious but not unscarred
5:17
The Hyperion Overture
2
5
The Hyperion Overture
5:20
The Symphony of Sanctuary
2
6
The Eternal Conflict
6:37
2
7
Legacy of Terror
5:28
2
8
Children of the Worldstone
7:56
Last Angel
2
9
Last Angel
7:44
Artists
Director and Producer
Chief Conductor
Composers
Arrangers and Additional Composers
Editions
Edition
Release Date
Price
Contents
Reference
Standard
November 22, 2008
June 16, 2009[5][6]
$29.95 (2008)
$19.95[6] (2009)
2 music discs
[7][1]
Legendary
November 1, 2008
$49.95
2 music discs, bonus documentary DVD, nine art cards, and a detailed booklet
[8][1]
Vol. 1 (iTunes)
November 21, 2008
$5.94
Digital music from disc 1
[9]
Vol. 2 (iTunes)
November 22, 2008
$5.94
Digital music from disc 2
[10]
Gallery
Standard
Legendary
Other
References
External links