Echoes of War: The Music of Blizzard Entertainment
Echoes of War: The Music of Blizzard Entertainment



Cover art

Released
November 21, 2008
Recorded
Blizzard Entertainment
Length
01:34:28
Label
Blizzard Entertainment
Eminence Group Pty Ltd.
Producer
Hiroaki Yura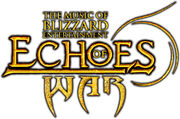 Echoes of War: The Music of Blizzard Entertainment is two-disc album and DVD package created by The Eminence Symphony Orchestra for Blizzard Entertainment. It featured two audio discs, DVD including feature length documentary, 32-page color booklet, nine exclusive art cards, fifteen audio tracks and over ninety minutes of orchestral music including exclusive music from World of Warcraft: Wrath of the Lich King, StarCraft: Ghost, StarCraft II, and Diablo III.[1] It was developed by Eminence in partnership with Blizzard Entertainment.[2]
It contains a total of 90 minutes of music,[3] with bonus tracks arranged by special guests including the critically-acclaimed composer Kow Otani (Shadow of the Colossus).
Track list
Disc
#
Title
Time
The Third War Symphony
1
1
Journey to Kalimdor
4:08
1
2
Eternity's End
2:43
The Shadow of the Legion Symphony
1
3
A Tenuous Pact
7:43
1
4
Anar'alah Belore
5:21
1
5
The Betrayer and The Sun King
6:53
The Visions of the Lich King
1
6
The Visions of the Lich King Overture
8:41
The Koprulu Symphony
2
1
No Matter the Cost
5:44
2
2
En taro Adun
4:09
2
3
Eradicate and Evolve
6:35
2
4
Victorious but not unscarred
5:17
The Hyperion Overture
2
5
The Hyperion Overture
5:20
The Symphony of Sanctuary
2
6
The Eternal Conflict
6:37
2
7
Legacy of Terror
5:28
2
8
Children of the Worldstone
7:56
Last Angel
2
9
Last Angel
7:44
Artists
Director and Producer
Chief Conductor
Composers
Russell Brower
Glenn Stafford
Derek Duke
Jayson Hayes
Matt Uelmen
Tracy W Bush
Arrangers and Additional Composers
More information about the people who are making this can be found on the official Echoes of War website.
Editions
Standard Edition
The standard edition became available for sale November 22, 2008 for $29.95.[4]
Legendary Edition
The Legendary edition became available for sale November 1, 2008 for $49.95 that came with a bonus documentary DVD, nine art cards, and a detailed booklet.[5]
Volume 1
The Volume 1 of Echoes of War was released on November 21, 2008 for iTunes only for $5.94.[6]
Volume 2
The Volume 2 of Echoes of War was released on November 22, 2008 for iTunes only for $5.94.[7]
2009
Eminence announced a re-released of the Standard Edition product on June 16, 2009.[8]
Gallery
Standard
Legendary
Other
References
External links