For other uses, see Eclipse (disambiguation).
Eclipse

Eclipse
Level 11 Balance druid ability

Passive

Casting 2 Starfire empowers Wrath for 15 sec. Casting 2 Wrath empowers Starfire for 15 sec. These Eclipses occur in alternation.



Eclipse (Solar)


Wrath cast time reduced 8% and damage increased 20%.



Eclipse (Lunar)


Starfire cast time reduced 8% and critical strike chance increased 20%.



Rank 2 (Level 47):




Eclipse now reduces the cast time of affected spells by 15%.

Usable by
Class
Druid
Other information
Level learned
11
Related buffs



Eclipse is a level 11 Balance druid passive ability. It provides a pair of empowerment effects that are interlinked with two of their casted spells,

[Wrath] and
[Starfire]. In addition to that relationship, both types of Eclipse also increase a type of spell damage according to

[Mastery: Total Eclipse].
Casting two non empowered
[Starfire] grants Solar Eclipse while casting two non empowered

[Wrath] grants Lunar Eclipse. After gaining one type of Eclipse it cannot be granted again until gaining the other type.
Tips and tactics
Because of the mechanics of astral damage, either type of eclipse will provide the full Mastery damage bonus to abilities with that type, which includes both main Astral Power spenders.
Improvements
Notes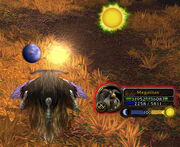 Prior to patch 7.0.3, Eclipse was the secondary resource of Balance druids, requiring to generate 100 Solar or Lunar energy to achieve the related buffs.
Patch changes
External links
Primary resources
Secondary resources
Removed