El Pollo Grande
The subject of this article was removed from World of Warcraft in patch 4.0.3a but is present in World of Warcraft: Classic.

The subject of this article does not exist on the retail realms anymore.
The categories should reflect this, and should not include retail realm categories.
"Bawk, bawk, bawk, bawk ... BA-GAWK!"[1]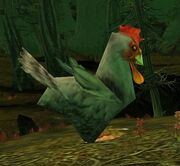 El Pollo Grande, the Black Chicken of Death, is a huge black level 50 chicken accidentally summoned by Niby the Almighty in Felwood upon completion of


 [55] Kroshius' Infernal Core. Niby actually intended to use

 [Kroshius' Infernal Core] to summon an infernal destroyer that he could use to exact his vengeance upon Stormwind City, but inadvertently summoned a giant chicken instead, much to Impsy's amusement. However, Niby promptly declared that Vengeance will be mine! Death to Stormwind! Death by chicken![2]
Notes and trivia
Patch changes
See also
References
External links