Elekk Plushie
Use: Teaches you how to summon and dismiss this companion.
The Elekk Plushie is crafted with Tailoring (1); taught by

 [Pattern: Elekk Plushie].
Pet Journal
This adorable little elephant is always there for you.
Battles
Magic: Cannot be dealt more than 35% of their maximum health in one attack.
Notes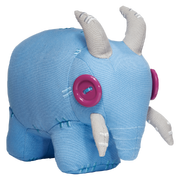 When it uses Rawr!, a ghostly elekk named Grand Elekk briefly appears.
All of the Elekk Plushie's abilities are essentially useless in a pet battle, requiring at least one other pet to "carry" it.  

[

An Awfully Big Adventure

]

is an achievement earned for defeating various trainers with an Elekk Plushie on your team.
Raising an Elekk Plushie to level 25 rewards the  

[

Overstuffed

]

achievement.
Patch changes
See also
External links
Blizzard Gear
 Plush
Battle pet types
Magic battle pets

Anomalus

Archetype of Focus

Bubbling Pustule

Elekk Plushie

Geordy

Maw Stalker

Omnipotential Core

Pocopoc

Resonant Echo

Shy Melvin

Sludge Feeler