Elemental Bonds: Fury
Objectives
Kill fire elementals next to Aggra's Air Totem, on the western edge of the plateau, until it activates. Then continue to Aggra's Water Totem, Aggra's Earth Totem, and Aggra's Fire Totem.
Activate Aggra's totems to save Thrall
Description
The totems, <name>! We need to activate them, or Go'el is lost!
Kill the elementals next to each of my totems, located around the edges of this plateau. Once all four totems are activated, we should be able to free the last piece of Go'el's soul!
Completion
Despite all odds, Thrall has been saved. Aggra was right to hold out hope for the world-shaman.
Gains
You will receive:
Notes
As on the previous quests, a progress bar will appear on accept.
Seeds of Fury are level 85 fire revenants with 77490 health and the following abilities:
Cripple 30 yd range — Increases the time between an enemy's attacks by 100% and slows its movement by 50, in addition to reducing its strength by 50%. Lasts 8 sec. 3 sec cast. Interruptible
Conflagration 30 yd range — Sets an enemy aflame, inflicting 4 Fire damage over 3 sec. and sending it into a state of panic. While the target is affected, the flames periodically scorch its nearby allies for 290 damage as well. 2 sec cast. Uninterruptible. Triggers...

Dazed Melee range — A concussive strike dismounts the target and reduces movement speed by 50%. 

Fierce Punch Melee range — Strikes at an enemy, dealing Physical damage. Instant. Hits for ~3600 Physical on cloth.
Fireball 40 yd range — Inflicts Fir damage to an enemy. 3 sec cast. Interruptible. Hits for ~9500-17000 Fire
Flame Lash 20 yd range — Burns an enemy for 7118 to 7126 damage and reduces its Fire resistance by 10 for 20 sec. 1 sec cast. Hits for ~12000 Fire. Reduces Fire resistance by 49. Stacks.
Furious Charge 10-40 yd range — Charges at an enemy, inflicting normal damage plus 8325 to 9675. Instant. Hits for 7000-9200 Physical. Also hits other Seeds of Fury nearby for over 20,000 Physical
Invocation of Flame — Harness the power of the elemental flames. Increases damage dealt by 50%. Buff cast on players.
Rush of Flame — The fire elemental rushes forward, leaving a blazing train behind. Instant. Triggers...

Rush of Flame — The patch of fire inflicts Fire damage every 1 sec for 8 sec. Hits for 1620 Fire every 1 sec.

Shower of Flame 30 yd range — Periodically places geysers of flame at target's location. 1.5 sec cast. Triggers...

Gout of Flame — Creates a geyser of flame at the target location. Hits for ~8400-9000 Fire
On accept:
Kill elementals near Aggra's Air Totem, in the west!
Thrall says: MY PARENTS... MURDERED BEFORE I COULD KNOW THEM... BETRAYED!
Thrall says: GUL'DAN! IF I MUST BURN MY WAY ACROSS THE AFTERLIFE, I WILL FIND YOU IN WHATEVER HELL YOU'VE HIDDEN!
Thrall says: I WILL HAVE MY REVENGE! DO YOU HEAR ME???
Aggra says: He's absolutely raging! So much anger, so much pain... and he had the strength to supress it all these years...
Head west to Aggra's Air Totem and start killing elementals near it.
Upon reaching 25%, move to Aggra's Water Totem, in the north.
Kill elementals near Aggra's Water Totem, in the north!
Thrall says: RAISED AS A SLAVE... TO KILL FOR HUMAN AMUSEMENT...
Thrall says: DEATH WAS TOO GOOD FOR BLACKMOORE. ANYONE WHO WOULD ENSLAVE ANOTHER... DESERVES WORSE THAN DEATH!
Thrall says: ALL ARE GUILTY! ALL MUST PAY!
Upon reaching 50%, move to Aggra's Earth Totem, in the east.
Kill elementals near Aggra's Earth Totem, in the east!
Thrall says: KING VARIAN... YOU WISH TO MAKE WAR UPON MY PEOPLE? YOU SHALL HAVE YOUR WAR, HUMAN!
Thrall says: YOU WILL SEE THE FURY OF THE HORDE RAGE THROUGH YOUR CITIES! YOU WILL SEE YOUR THRONE SPLIT IN TWO! THIS I SWEAR!!!
Upon reaching 75%, move to Aggra's Fire Totem, near Thrall.
Kill elementals near Aggra's Fire Totem, near Thrall!
Thrall says: GARROSH... Garrosh...
Thrall says: CAIRNE WAS MY BROTHER!!!!!!!!!!
Aggra says: Go'el! Go'el, you must stop!, Your anger is JUST - but it will only consume you! Fight it down, or we're ALL LOST!
Aggra says: Can you even hear me?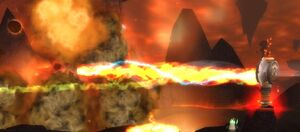 Upon reaching 100%, The 4 essences will appear and merge into Thrall. The following conversation will then start and the portal to Nordrassil will open: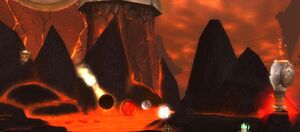 Thrall says: Aggra... <Name>...
Thrall says: I am... alive...
Aggra says: Go'el, I thought I'd lost you...
Thrall says: Aggra, my heart... you never gave up on me. I owe you my life... everything that I am.
Thrall says: For I see now what I had become, so weighted down by doubt and anger. All my life, I had CHOSEN to be a slave to fear...
Thrall turns around.
Thrall says: ... a THRALL.
Thrall says: Fandral sought to use this weakness against me...
Thrall begins to walk towards the fire.
Thrall says: But what he and his Twilight Masters never understood is that the elements do not exist to rage and war... they exist to bring harmony. Within the world... and within us.
Thrall says: I have seen the TRUTH - and my chains have been broken.
Thrall turns back and walks toward Aggra.
Thrall says: Now, I'm all that I once was... and more.
Aggra says: Well, You're certainly more talkative...
Aggra says: But we must hurry back to the World Tree! The Dragon Aspects are waiting...
Aggra says: ...And you, my love, have a world to save.
Thrall says: Thank you, my friend. I can never repay your service or your friendship.
Thrall says: Meet us back at the World Tree. There's something... I want you to witness.
As Thrall goes through the portal, the quest completes automatically.
Progression
 [85] 

The Nordrassil Summit

 [85] 

Into Slashing Winds

 [85] 

Into Coaxing Tides

 [35] 

Into Constant Earth

 [85] 

Elemental Bonds: Fury
Known Issues
If you abandon the quest or leave the area, you can speak to Aggra in Deepholm to return. Also, you can utilize the portal generated from completing Aessina's Miracle.
Patch changes
External links