Elemental Focus

Elemental Focus
Level 40 Elemental shaman ability

Passive

Your direct damage spell critical strikes increase the damage and healing of your next 2 spells by 10%.

Usable by
Class
Shaman
Other information
Level learned
40
Related buff

Elemental Focus
Your next spell deals 10% increased damage and healing.
Duration: 15 seconds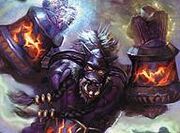 Elemental Focus is a passive level 40 Elemental shaman ability.
Patch changes
See also
External links