Elwynn Lamb
Use: Teaches you how to summon this companion.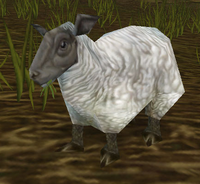 Elwynn Lamb is sold by the Argent Tournament vendor

 Corporal Arthur Flew <Stormwind Quartermaster> in Icecrown for 40

. It can also appear on the Black Market Auction House.
Pet Journal
Unlike the polymorphed variety, trueborn sheep can be quite scary.
Battles
Notes
This companion can only be purchased by a player who is a   

[

Champion of Stormwind

]

.
It is not Bind on Pickup and can therefore be traded with other players including those of the opposing faction.
The lamb has an animation where it is randomly attacked by an Elwynn Forest Wolf, where it kills the lamb in one bite, snoozes for a few seconds, then despawns.

The wolf uses the model of a saber worg rather than that of a wolf found in Elwynn Forest.

The lamb has an occasional animation of eating grass.
Patch changes
External links
Battle pet types
Critter battle pets

Archetype of Multiplicity

Archetype of Survival

Archetype of Multiplicity

Ashen Chomper

Bloodlouse Larva

Corpselouse Larva

Decaying Mawrat

Decay Grub

Deepwood Leaper

Elwynn Lamb

Emerald Scarabid

Feasting Larva

Fierce Scarabid

Frenzied Mawrat

Hissing Deathroach

Leaping Leporid

Metallic Scarabid

Plaguelouse Larva

Shelly

Timid Leporid

Tower Deathroach

Undying Deathroach