Ely Cannon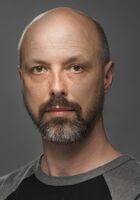 Ely Cannon is the art director (formerly a senior level designer)[1] for World of Warcraft. He has worked on World of Warcraft since The Burning Crusade and has been involved in the creation of more than 50 different in-game zones.[2]
Notes
Cannon grew up in Eastern Washington and spent a lot of his childhood outside doing activities like hiking and mountain-biking, which gave him a deep love for landscapes and nature. After he went through art school, he got a job at ArenaNet as a level artist, a job he fell in love with. According to Cannon himself, the "world" part of World of Warcraft is still the thing that drives him. He often gets distracted while questing because he wanders off the beaten path to explore the zones.[2]
Cannon's favorite place in World of Warcraft is Icecrown, because he spent a lot of time working on the zone with one of his good friends and because it—along with the rest of Wrath of the Lich King—represented a turning point for WoW's level design and visual fidelity.[2]
Cannon presented the Artcraft: Level Design Part 3 blog in October 2014, exploring the role of level designers in bringing World of Warcraft'''s landscape to life.
References