The subject of this article was removed from World of Warcraft in patch 4.0.1.

This includes items and quests that can no longer be obtained or are now deprecated.
The in-game information in this article is kept purely for historical purposes.
Emblem of Conquest
Requires Level 80

Emblem of Conquest was a currency used in Northrend to buy epic (item level 226 or tier 8) items, and can be traded in at a 1:1 ratio for 1

 [Emblem of Valor] with

 Arcanist Firael <Emblem of Conquest Quartermaster> or
 Magister Sarien <Emblem of Conquest Quartermaster>.
Source
This item is no longer available as a drop. However, as all other tier Emblems,

 [Emblem of Triumph] can be downgraded to an Emblem of Conquest by visiting
 Usuri Brightcoin[32.2, 54.5]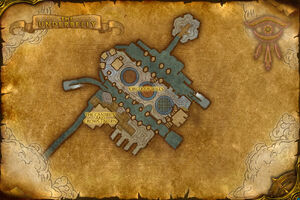 in the Underbelly of Dalaran or Arcanist Asarina in the Argent Tournament Grounds.
Vendors
Emblem of Conquest vendors can be found all over Dalaran in the various weapon and armor shops selling the appropriate armor for their location, as well as in the Alliance and Horde quarters of Dalaran:
Purchaseable rewards
Trivia
This particular badge name was folded over and used in the current PvP point system

[

Conquest Points

]

. Essentially being the PvP equivalent to

[

Valor Points

]

.
Patch changes
External links
Previously dropped:

 

[

Emblem of Conquest

]

Similar: