Not to be confused with  

[

Emerald Shards

]

.
Emerald Shard
Unique (10)
Empowered while holding Emerald Shards. Increases damage done by 5% and healing for 1% of total health every 5 sec. This effect stacks.

Can wake sleeping dragons.
"Coalesced power of the green dragonflight."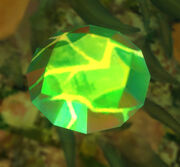 Emerald Shards are scattered throughout the Emerald Dreamway. These fragments of the emerald flight's power can be found next to Drained Emerald Drakes, who have been attacked by Void creatures.
Each shard in your inventory grants a stack of the
  Emerald Empowerment buff.
Objective of
Patch changes
External links