This article is about the world quest rewards. For the Warcraft III unit, see Emissary (Warcraft III). For the occupation, see ambassador. For Paragon quests, see Paragon reputation.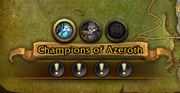 Emissaries provide additional rewards and a reputation boost for a faction. Players will have three emissary slots and each emissary quest will last for 3 days. Players will need to complete four world quests that correspond to the emissary (3 for Tortollan Seekers or Kirin Tor) to complete the emissary and be able to turn it in to the faction's Quartermaster, labeled as an Emissary. One new emissary quest will be available every day.
Shadowlands factions uses a feature called Callings.
Quests
Legion
Battle for Azeroth
Rewards
Legion rewards
1,500 reputation with the associated faction
A cache (listed below) containing the following items:
Caches
There is an additional emissary which works slightly differently. The Kirin Tor of Dalaran grants Kirin Tor reputation, as well as an insignia which grants 1,500 reputation for a specific faction (750 for Nightborne, Armies of Legionfall, Army of the Light, and Argussian Reach), as well as a
 [Kirin Tor Chest].
Battle for Azeroth rewards
Trivia
Patch changes
References