The subject of this article was removed from World of Warcraft in patch 4.0.3a.

This includes items and quests that can no longer be obtained or are now deprecated.
The in-game information in this article is kept purely for historical purposes.
This is part of the main Blasted Lands quest chain, although it takes place in Stranglethorn Vale.
Objectives
Wait for Galvan to finish forging the weaponry.
Description
<name>, the creation of each weapon will take some time.
Additionally, you may only use the power of the Felcurse once per three minutes. Its weakening properties against Razelikh the Defiler and his minions may be variable in duration. This is why you must release the Felcurse only when the moment is right!
Now give me a moment to craft your weapon, <name>.
Progress
To interrupt the forging process could result in an imperfect weapon. Be patient, <name>.
Completion
<Galvan wipes the sweat from his brow.>
A finer demon slayer has never existed, <name>.
Reward
Notes
Galvan is located just south of the main road into Zul'Gurub. [50.6, 20.5]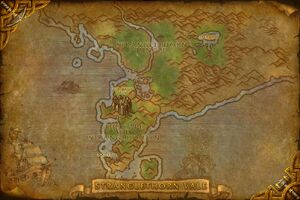 Aside from being required to complete the quest, the weapons themselves have decent stats for their level.
Progression
This is part of the You Are Rakh'likh, Demon quest chain.
Horde precursors
Alliance precursors
 [57] 

Petty Squabbles

 [57] 

A Tale of Sorrow
Neutral quests
Patch changes
External links