Enchanted Broom
Use: Teaches you how to summon this companion.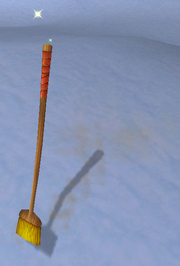 The Enchanted Broom is a companion pet sold by the Argent Tournament vendor

 Trellis Morningsun <Silvermoon Quartermaster> in Icecrown for 40

. It is a small version of the magical brooms seen sweeping the streets of Silvermoon City.
Pet Journal
Created by a blood elf apprentice, this broom would be extremely useful if anyone could figure out how to make it stop.
Battles
Magic: Cannot be dealt more than 35% of their maximum health in one attack.
Notes
Patch changes
External links