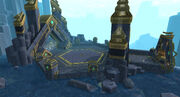 The Enigma Crucible is the arena at the Zereth Mortis. It was created by the Progenitors and serves as an ever-changing battlefield. Though announced for patch 9.2.0, it was ultimately pushed back to patch 9.2.5.
Notes
It was originally called Enigma Arena.[1]
The original concept included a switch located at the center of the Arena that could be used to change the central pillar configuration create cover for allies (or deny it to opponents). Due to pathing and line-of-sight issues during testing, however, this feature was scrapped.[2]
Gallery
Patch changes
References
External links
PvP (instanced)
PvE (instanced)
PvA (non-instanced)